Hildesley Court is a local Sheltered Housing scheme with flats and bedsits for the over 60's. A group of our congregation visit their once a month on a Monday morning and lead a short (usually Holy Communion) service for and with the residents.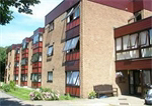 Hildesley Court – November 21 News
We met for the first time since the pandemic, last month during which Bea led a service for Harvest. I was so rusty from being in lockdown that I forgot to report back for the digest.
However, I am sufficiently recovered to report on this months service.
This months theme was the Bible, as it was Bible Sunday. We took a trip through this amazing book taking in some of the most outstanding verses, and the Laws of our Christian Faith.
Albert began our service with a reading from Exodus and the Ten Commandments. Jean Wray gave a complete marathon reading of God's conversation with Job, on who it was that had created the world and all that goes on within it.
We then celebrated our service of Holy Communion, Anne led us with that and gave the Blessed Sacraments. We continued our journey through the Bible with Our Lords comforting words. John ch 14 'Let Not Your Heart Be Troubled' shared by Sue. Followed by Bea sharing the beautiful 1 Corinthians, chapter 13.
Anne ended her blessing with John, Chapter 14, Verse 27, Our Lord's promises Peace I leave with you.
In the absence of Pat our pianist, one of the residents stepped in and provided
us with music for our hymns. thank-you Alma!
It was great to be able to sing again together. Be thou my Vision O Lord of my heart, All creatures of our God and King and Make Me A Channel of your Peace
We meet again on November 15th When Sue will be leading us in a service of Remembrance. All are Most Welcome.
ADVENT IS SOON UP