Hildesley Court is a local Sheltered Housing scheme with flats and bedsits for the over 60's. A group of our congregation visit their once a month on a Monday morning and lead a short (usually Holy Communion) service for and with the residents.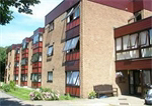 December 19 NEWS FROM HILDESLEY COURT
Our service this month was arrange and delivered by Sue, with a theme of Advent. In Bea's absence, Sue also led us in our opening prayer.
Our First Hymn was O Come O Come Emmanuel which was followed by a reading by Jean W from St LUKE. Our Second Hymn In The Bleak Midwinter, was followed by a second reading from Luke ch 2, The Birth of Christ from Jean L.
Sue and Anne gave Holy Communion to those who attended the service and delivered to the residents who were unable to attend.
Maggie read a lovely poem entitled, 'Don't Forget Jesus' and Albert shared a closing prayer.
The service was closed with two lovely carols, the gentle and beautiful, Silent Night, and the more rousing, Hark the Herald Angels Sing.
Mince pies were provided by Elaine and Christine, and a cake by Jean Wray.
This was our last service at Hildesley Court for 2019, the next will be on January 20th, 2020!!!
All are most welcome.
A very Happy Christmas to all from
The Hildesley Court Team.