Hildesley Court is a local Sheltered Housing scheme with flats and bedsits for the over 60's. A group of our congregation visit their once a month on a Monday morning and lead a short (usually Holy Communion) service for and with the residents.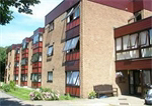 Hildesley Court
Our service this Month was prepared and led by Jean L. The theme was on two very important events in the Christian calendar, the first being our Lords Ascension, and second, the Gift of the Holy Spirit to the Disciples.
On Pentecost Sunday, Albert opened our service with a prayer, we followed this with a hymn, Spirit of Holiness. Allan then read us the account of our Lords Ascension from Acts, Chapter 1. This account believed to have been written by St Luke to his friend, Theophilus. Allan asked if anyone had a relative of this name, none of us had – apart from Allan who has an ancestor of that name around in the 1850's!
We moved on to a very quiet hymn Spirit of the Living God, it's a very beautiful hymn, which we sang twice. Bea then read a poem entitled 'Wind of the Spirit'
It was good to welcome Rev. Sharon to our Service, she conducted our communion service, and was assisted by Anne when giving the Blessed Sacraments. Maggie shared our closing prayer, and Rev Sharon gave the blessing.
Our final Hymn was Breathe on me Breath of God.
Our next service at Hildesley Court will be on June 19th. All are most welcome. God Bless You.