Hildesley Court is a local Sheltered Housing scheme with flats and bedsits for the over 60's. A group of our congregation visit their once a month on a Monday morning and lead a short (usually Holy Communion) service for and with the residents.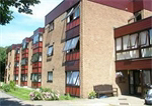 Hildesley Court
Our service was prepared and delivered by Bea, with
the theme of changing seasons. Despite the
congregation being small due to lots of illness and
other engagements, the meeting was lovely.
Our service was opened with a thanksgiving prayer for all the fruits of the changing seasons, this was followed by our first hymn, For the beauty of the Earth. Jean Lockwood read from Ecclesiastes chp 3 For everything there is a Season, after this Jean W read an amusing little article from Eddie Askew based on a conversation with a hedgehog.!!!!
Our next Hymn was a resident's choice, Loves Devine, All Loves Excelling, this then led into our communion. Jean L assisted Anne with Communion and took the bless sacraments to a resident who is no longer able to attend our services.
Our service was closed with a closing prayer from Bea, and Anne sharing the blessing. Our final hymn was Fight the Good Fight
Our next service will be on August 15th 2022.
All are most welcome.