Hildesley Court is a local Sheltered Housing scheme with flats and bedsits for the over 60's. A group of our congregation visit their once a month on a Monday morning and lead a short (usually Holy Communion) service for and with the residents.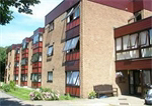 Hildesley Court – March 22 News
Our service this month was prepared and led by Jean L. Rev. Sharon was able to join us this month and led the Communion service. She was also able to take the Blessed Sacraments to two of the residents who were unable to attend the service.
The theme this month was based on the 'fight against evil', with a particular focus of Lent and the time of our Lord's temptation in the wilderness. All around us Evil continues to be fought out every day, thoughts particularly for our brothers and sisters fighting for freedom of their county in Ukraine. We also prayed for International Women's Day, highlighting the needs of woman in combatting and the problems so many face.
Our service was opened in prayer shared by Alan, followed by a number of beautiful hymns; As We are Gather Jesus is Here, Forty Days and Forty Nights and Make Me a Channel of your Peace.
Jean Wray read of Our Lords Temptations and Sue shared a reading from King David's Psalm 37. We were also given a short address from Anne.
Several of the Hildesley Court team are members of the Mothers Union, no organisation fighters harder for marginalised women than themselves. Our final reading shared by Bea was taken from a Mothers Union Prayer Book. Albert then closed the service with a prayer, and Sharon gave a blessing.
Our Service Next Month will be on April 11th.
We look forward to welcoming anyone who would care to join us.