Hildesley Court is a local Sheltered Housing scheme with flats and bedsits for the over 60's. A group of our congregation visit their once a month on a Monday morning and lead a short (usually Holy Communion) service for and with the residents.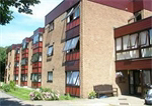 January 20 NEWS FROM HILDESLEY COURT
Our service this month was arranged and led by Jean Lockwood who used the theme of Epiphany, reflected at the beginning with Albert's opening prayer being the Collect for the first Sunday of Epiphany.
Our hymns, for which Pat accompanied us, were – As with Gladness Men of Old, Jesus shall reign where're the sun, and of course, We Three Kings.
Jean W and Sue gave the readings of the Epiphany story from
St Matthews Gospel, and the Communion Service was brought to us by Anne and Sue.
Maggie gave us a poem entitled Hope which was one of looking forward to Spring.
As well as three of our Hildesley Court Residents we were pleased to welcome Pat and Elaine from the Lowestoft Lifeboats Committee.
Our next service will be on February17th, and all are most welcome to join us.
The Hildesley Court Team.