Hildesley Court is a local Sheltered Housing scheme with flats and bedsits for the over 60's. A group of our congregation visit their once a month on a Monday morning and lead a short (usually Holy Communion) service for and with the residents.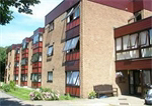 Hildesley Court
Bea prepared and led our service this month, her talent for putting together a wonderful service full of love from the focus of 'junk', shone through, leaving me lost for words.
The service was opened by Sue with prayer, Albert often has this role but was unable to join us this month.
Our first hymn was The Beautiful Father I Place into Your Hands, this was followed by a reading by Psalm 95, shared by Maggie, who hasn't long returned from a trip to Poland.
Jean L gave a reading from Eddie Askew on the mysteries of his own 'junk drawer'. How was it that in spite of taking something out you can never get everything back in again? Such a mystery. Love is a mystery, as believed by Eddie, and however much we have there's always room for more. Love is the greatest mystery of all! This led us onto our next hymn, Make me a Channel of you Peace.
Our next reading was shared by Jean W, this was a poem written by the late, Shirley Young, a very well loved member of our church and dedicated leader of Pakefield Mothers Union. Shirley had written this poem following an attempt she had made to clear her shed. However, she did not succeed, there was too many pieces of junk which held too many happy memories – again, love got in the way of a tidy shed!
Sue and Anne gave us our Communion services, Anne addressed us on the role of the Wse Men in the Nativity story. Alan gave us a resounding closing prayer.
His message was this, clear your lives of junk, and leave more room for love- Wise advice Alan.
Bea gave the residents chance to select the last hymn, Love Divine All Loves Excelling – most fitting. Anne gave us a blessing, which concluded Bea's service on junk and love – there is a connection!!
The next service at Hildesley Court is on Monday 20th February.
All are welcome.