Hildesley Court is a local Sheltered Housing scheme with flats and bedsits for the over 60's. A group of our congregation visit their once a month on a Monday morning and lead a short (usually Holy Communion) service for and with the residents.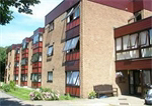 Hildesley Court
Our service this month was prepared and led by Bea, the theme was, Harvest.
The hymns we sang were lovely, Come Ye Thankful People Come, We Plough the Fields and Scatter, and with All Things Bright and Beautiful.
Our first prayer was led by Albert, he and Jean are now back from visiting their son, he is now home from hospital.
Maggie read us some passages from the Bible, referring to all the good gifts that surround us. Jean W then shared an article from one of Eddie Askews books. Eddie Askew's writing are highly thought of by the team who plan and prepare for Hildesley Count service.
Anne gave us a short address on the importance and difficulty of forgiveness. She and Sue then brought us our Communion service and gave the Blessed Sacraments.
Jean L read a lively little poem entitled, Autumn is here, then the service was closed in prayer led by Sue.
We meet again on 16th October, everyone is welcome.
God Bless You
From the Hildesley Court Team