Hildesley Court is a local Sheltered Housing scheme with flats and bedsits for the over 60's. A group of our congregation visit their once a month on a Monday morning and lead a short (usually Holy Communion) service for and with the residents.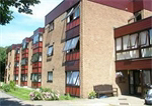 February 20 NEWS FROM HILDESLEY COURT
Our service this month was prepared and led by Bea on the theme of love. It Was a lovely service and Bea had chosen some beautiful hymns, but first Albert brought us the opening prayer.
This was followed by our first hymn Father we place into your Hands, and the two Jeans followed this by sharing a reading from Eddie Askew's book entitled Disguises of Love, based on a text from Romans 8.
This was followed by the well-known reading from Corinthians 13 by Maggie and we then we then sang Love Divine all Loves Excelling to the Welsh tune.
Anne was away, so Sue led the Communion service and Bea assisted her in the giving of the Blessed Sacraments.
After Alberts Closing Prayer, and Sue had given the Blessing we concluded our service with the beautiful Hymn Great is thy Faithfulness with Pat accompanying us on the keyboard.
We were joined at this month's meeting by Pat, Elaine and Shirley as well as our regular Hildesley Court Residents.
God Bless You
The Hildesley Court Team.
Coronavirus Sunday 15th March 2020 posted 16th March 2020 at 12.38 pm
As a church we are continuing to follow guidance from both Public Health England and the Church of England. Detailed and up to date information can be found at:
https://www.churchofengland.org/more/media-centre/coronavirus-covid-19-guidance-churches
Naturally as part of the community here in Pakefield we want to keep the most vulnerable people safe.
We have had to make some difficult decisions regarding our events, activities and groups, either because they involve catering (which has been suspended by the Church of England) or because they involve the most vulnerable in our community (as either volunteers or as part of the group).
Therefore our services will not include refreshments:
Sunday morning 10.30am
Thursday Gathering Lent/Worship
Some activities are suspended or postponed :
Monday: Hildersley Holy Communion Service
Tuesday Children's clubs
Wednesday Morning Coffee and Teddy Edward Club
Friday Lent café
Murder Mystery Evening (tickets purchased will be valid for the new date later in the year)
Our hall is used for lots of community groups and some of those groups have decided to suspend meeting, these include (at time of writing)
Monday Toddlers
Tuesday Lunch Club
Wednesday and Friday Bowls Club
If you attend a weekly activity please contact the organiser if you are concerned
Please contact The Revd Sharon Lord if you wish to discuss this further telephone 01502 516800 Email: rector@pakefieldchurch.com or message us through our Facebook page, Website or Twitter
God Bless
Sharon