Welcome to Pakefield Parish Church in Lowestoft, Suffolk.
What is Pakefield Church?
We are a Christian family who worship God, care for one another and the local community
and reach out to encourage others to know Jesus and his love.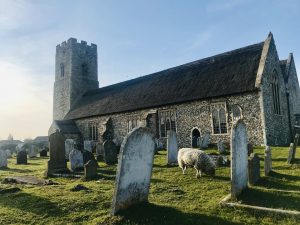 All Saints' and St Margaret's Church, Pakefield is a warm and friendly Church of England church situated on the cliff top of Britain's most easterly town. From well attended Sunday services by people of all ages, through to weddings, baptisms and lots of other groups, there is something for everyone here!
We have a varied approach to worship, including Holy Communion, All Age, Morning Worship, Baptism and Prayer services, supported with a mix of traditional hymns and modern contemporary worship songs, played by our organists and music group. Please use the links above to find the information you need.
The Diocese of Norwich have added a donate option for our church on their website. If you wish to help us with the cost of maintaining our ancient church then all you need to do is follow the below link and choose All Saints and Saint Margaret's Church, Pakefield.
We are open for private prayer, our usual times of 9am to 6pm
Facemasks should be worn when entering the Church and please sanitise your hands on arrival and departure. You may take your facemask off when seated.
Services in Church are as follows:-
8.00am Sunday Morning – BCP Holy Communion
10.30am Sunday Morning – Morning Prayer/Holy Communion
We record our 10.30 am Sunday Service for everyone to view from their home via this website, YouTube or our Facebook page.
6.30pm Sunday Evening – Evening Prayer/Holy Communion
Weekdays – Tuesday to Saturday – 9.00am Morning Prayer.
Wednesdays – 9.45am Holy Communion
Please wear a face covering in church to protect your fellow worshippers and please use the hand sanitiser thoroughly on entering the church, before receiving Holy Communion and again on leaving the church. Don't forget to wash your hands thoroughly as soon as you get home.
Singing in church is permitted provided a facemask is worn.
We have to keep a register of who attends our services in church for 21 days. We will be abiding by GDPR rules and regulations and will keep your details safe. However, we will need your permission to share your details if we are informed of a Covid-19 case.
We are displaying yellow hearts on our cross in church to represent loved ones that have passed away during the pandemic. If have had a loved one pass way during the Covid-19 pandemic and wish a yellow heart to be displayed please contact Revd. Sharon Lord at rector@pakefieldchurch.com or telephone 01502 516800.

Do you have an emergency, or know someone who has? We have our Church Prayer Chain where your need or the need of someone you know and love can be brought to our Lord for his help and healing. Please think seriously about adding your name to our church Prayer Chain. Please feel free to speak to Sharon on 01502 516800 or email office@pakefieldchurch.com.
Safeguarding Statement:
Pakefield Parish takes its duty and obligation to protect all extremely seriously. We have adopted the national Church of England's robust procedures and guidelines. You can find out more about the national policies and procedures at
www.churchofengland.org/safeguarding
If you have any safeguarding concerns or issues on a safeguarding matter then you can find useful contact information on the Norwich Diocese Website:
https://www.dioceseofnorwich.org/training/safeguarding
Or click the Safeguarding tab for more advice and who to contact if you wish to talk to someone about yourself, or are concerned about a child or vulnerable adult