Welcome to Pakefield Parish Church in Lowestoft, Suffolk.
What is Pakefield Church?
We are a Christian family who worship God, care for one another and the local community
and reach out to encourage others to know Jesus and his love.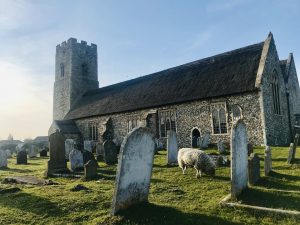 All Saints' and St Margaret's Church, Pakefield is a warm and friendly Church of England church situated on the cliff top of Britain's most easterly town. From well attended Sunday services by people of all ages, through to weddings, baptisms and lots of other groups, there is something for everyone here!
https://www.churchofengland.org/more/media-centre/news/archbishops-call-church-england-become-radically-different-public-worship
Coronavirus
Dear Everyone, following the announcement by the Prime Minister this evening (23rd March 2020 at 2030), in particular his mention of places of Worship to close immediately , I need to inform you that Pakefield Church will not be open tomorrow. Naturally we will be updating our Social Media regularly and I will be live-streaming Sunday Services from home. Please keep in touch. Remember the God that we worship is bigger than all of this, we can still be church, scattered as we are, because Church is the people not the building (as beautiful as our building is!).
Please don't hesitate to contact me via this page or directly, especially our prayer requests.
God's blessing be upon you, and keep safe.
Revd Sharon Lord
(Rector@PakefieldChurch.com, 01502 516800)
https://www.churchofengland.org/more/media-centre/news/archbishops-and-bishops-stay-home-continue-pray-love-care-vulnerable
There will be updates through our social media network. Find us on Facebook ( Pakefield Parish Church) and Twitter @pakefieldchurch and our website www.pakefieldchurch.com.
We have a new YouTube account with videos uploaded Services under Pakefield Church including the 70th Anniversary of the Re-dedication of Pakefield Parish Church held in January 2020.
Pakefield Church has a page within The Church of England website

AChurch

NearYou.Com under the menu About US

with links to all services recorded and uploaded to YouTube.
Follow this link to see our videos on YouTube under the official YouTube account of Pakefield Church:
http://www.youtube.com/channel/UCKhYzh4sP91zT-Iq-lXlM7w/about
God Bless and Stay Safe,
Revd. Sharon Lord ⛪️
Each Sunday at 10.30 am, whilst the church is closed, a Service will be published on Facebook and to our YouTube Channel.
We also distribute a CD of services, if you wish to receive a copy or paper version please let Sharon Lord know on 01502 516800 or email rector@pakefieldchurch.com
******
Although Pakefield Parish Church is closed we do still have maintenance costs for this beautiful church. If you wish to find out more about donating to Pakefield Parish Church please go to the Information Menu on this website where a page detailing how to donate is there.
Thanks!
******
Supporting those in need during Covid-19 in the Waveney area is a volunteer-run community group that delivers food hampers to those in need . If you are in the high risk category or know someone who would benefit please contact them on:
Telephone 0333 335 5237
support@comingtogetherwaveney.uk
www.comingtogetherwaveney.uk
******
Kingsley Healthcare are able to provide food parcels for the elderly and vulnerable. Please contact Rev. Sharon Lord on 01502 516800 or email Rector@pakefieldchurch.com if you wish to make a referral.
*****
If you are affected in any way by the restrictions of Coronavirus there is a helpline by Pakefield Community Group. They can help with :-
Food Shopping
Collecting Prescriptions
Dog Walking
Someone to chat to over the telephone
Their helpline no. is 01502 582964 – open 24 hours
Their email address is : pcghotline1@talktalk.net
The Church Hall will act as the Community Hub and will be open for the drop-off donations of food etc. at the times below. Please contact the above helpline for further information :

Tuesdays 1.00 pm – 4.00 pm

Thursdays 1.00 pm – 4.00 pm

Saturdays 11.00 am – 2.00 pm

**********
You may find it useful to check out this list by The Lowestoft Journal of companies that deliver food and drink in Suffolk.
Previous Coronavirus notifications
Following guidance from the Diocese of Norwich on the corona virus, our Holy Communion Services will now be held with British sign language replacing the physical sharing of the peace and the sharing of the cup and laying of hands have been suspended. Holy Communion will be held in one kind only.



Please see below link for updated guidance from Church of England:
https://www.churchofengland.org/more/media-centre/coronavirus-covid-19-guidance-churches
Coronavirus Sunday 15th March 2020 – posted on website 16th March 2020 at 12.15 pm
As a church we are continuing to follow guidance from both Public Health England and the Church of England. Detailed and up to date information can be found at:
https://www.churchofengland.org/more/media-centre/coronavirus-covid-19-guidance-churches
Naturally as part of the community here in Pakefield we want to keep the most vulnerable people safe.
We have had to make some difficult decisions regarding our events, activities and groups, either because they involve catering (which has been suspended by the Church of England) or because they involve the most vulnerable in our community (as either volunteers or as part of the group).
The following activities are

suspended or postponed :
Monday: Hildersley Holy Communion Service
Tuesday Children's clubs
Wednesday Morning Coffee and Teddy Edward Club
Friday Lent café
Murder Mystery Evening (tickets purchased will be valid for the new date later in the year)
Our hall is used for lots of community groups and some of those groups have decided to suspend meeting, these include (at time of writing)
Monday Toddlers
Tuesday Lunch Club
Wednesday and Friday Bowls Club
If you attend a weekly activity please contact the organiser if you are concerned
Please contact The Revd Sharon Lord if you wish to discuss this further telephone 01502 516800 Email: rector@pakefieldchurch.com or message us through our Facebook page, Website or Twitter
God Bless
Sharon
We have a varied approach to worship, including Holy Communion, All Age, Morning Worship, Baptism and Prayer services, supported with a mix of traditional hymns and modern contemporary worship songs, played by our organists and music group. Please use the links above to find the information you need.
Do you have an emergency, or know someone who has? We have our Church Prayer Chain where your need or the need of someone you know and love can be brought to our Lord for his help and healing. Please think seriously about adding your name to our church Prayer Chain. Please feel free to speak to Sharon on 01502 516800 or email office@pakefieldchurch.com.
THATCHING the latest Photos…
Work started in late May to replace all the thatched roof on the south side of our church and a lot on the north side. For more photos and update see 'New Thatch' under News. If you get a chance check out the September 19 issue of Suffolk Magazine as there is a feature on the thatching of Pakefield Parish Church !
The South Porch is now being thatched by Nick Walker and here are the latest photos!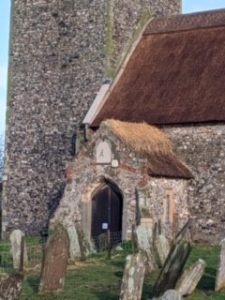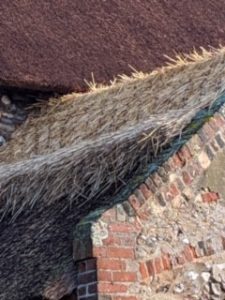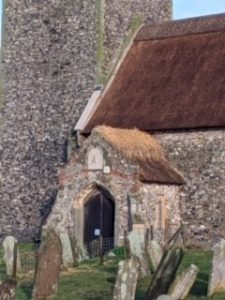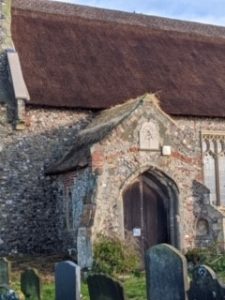 Safeguarding Update March 2019:
Pakefield Parish takes its duty and obligation to protect all extremely seriously. We have adopted the national Church of England's robust procedures and guidelines. You can find out more about the national policies and procedures at
www.churchofengland.org/safeguarding
If you have any safeguarding concerns or issues on a safeguarding matter then you can find useful contact information on the Norwich Diocese Website:
https://www.dioceseofnorwich.org/training/safeguarding
Or click the Safeguarding tab for more advice and who to contact if you wish to talk to someone about yourself, or are concerned about a child or vulnerable adult