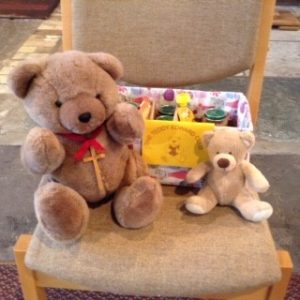 ……..is for Parents/Grandparents or carers with babies and toddlers run by members of our Mothers' Union Branch at Pakefield. We meet with Teddy Edward on the 1st Wednesday of the month in church, from 1.30-3.00pm. We have a story from the Bible, sing some songs, play with toys and whizz around on the trikes! We enjoy snacks and the adults have a cup of tea or coffee.
TEDDY EDWARD REPORT
(RUN BY MEMBERS OF THE MOTHERS' UNION)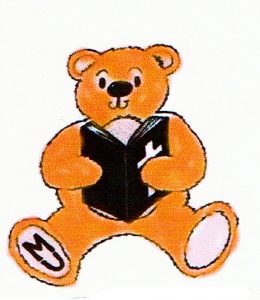 Our meetings take place THE FIRST WEDNESDAY OF THE MONTH AT 13.30 hours, Pakefield Church – with refreshments. Visitors always welcome.
vities for the older children. Messy Church in the church hall each month (with a meal), Sunday Club learning together and sharing a special fellowship, the CYM club. Katey Mills has all the details and to book – 07834910714 – email Katey_mills@yahoo.com. There is a special treat on Sunday the 10th April our donkey friends, Kevin and Florence, will be in the church hall field, ready to join in as part of the Palm Sunday celebrations – from 10.30am. Our monthly meeting takes place THE FIRST WEDNESDAY OF THE MONTH, 13.30 hours, Pakefield Church – with refreshments. Visitors welcome.
TEDDY EDWARD REPORTING: on our meeting on the 6th April when so many children attended we didn't know what to do, just like the nursery rhyme and Old Mother Hubbard. Only joking, we knew precisely what to do and that was to settle down and begin with prayers and a quiet time together. Roz asked us had we seen any butterflies lately. Well it has been very cold and windy so it was amazing that Roz saw two, a Brimstone and an Orange Tip! It was, therefore, a natural progression that Roz's story was about a caterpillar and a butterfly and we made the appropriate shapes with our fingers and hands.
This story is about a very special wiggly caterpillar who lived in a nettle patch. He was surrounded with friends who relied on him for many things so they were very sad and perplexed when one day he called them all together and explained he had to go away for a while but would return. Roz showed us the caterpillar disappearing inside a sock which represented a cocoon the caterpillar had made for himself. The caterpillar may have disappeared but out of the cocoon sock came a beautiful butterfly. This story is an analogy which is a story to illustrate an happening and the story of the caterpillar and the butterfly is when Jesus lived to love us and died to save us but rose again to continue looking after us.
There were three birthdays to celebrate with our happy birthday song, Chloe, our past member visiting with her sister and brother, Fleur who informs us she is three, and Toni, Vaya's mum.
Roz had some chicks she had made to give away and under their wings they had a chocolate Easter egg and also an Easter story book. We had hot cross buns and chocolate biscuits along with tea, then fun on the bikes as the babies watched, probably wondering when it would be their turn to have fun at the Teddy Edward Club. We meet the first Wednesday of the month and there is more fun to be had at our various fun meetings. Come and find out what's going on by looking through our church digest.