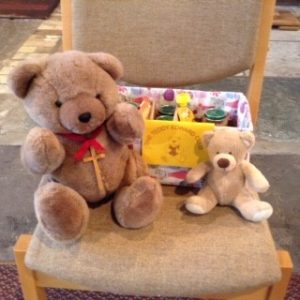 ……..is for Parents/Grandparents or carers with babies and toddlers run by members of our Mothers' Union Branch at Pakefield. We meet with Teddy Edward on the 1st Wednesday of the month in church, from 1.30-3.00pm. We have a story from the Bible, sing some songs, play with toys and whizz around on the trikes! We enjoy snacks and the adults have a cup of tea or coffee.
TEDDY EDWARD REPORT
(RUN BY MEMBERS OF THE MOTHERS' UNION)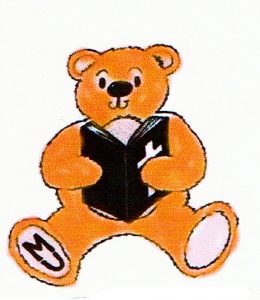 Teddy Edward is your reporter:
We had a gathering of new and present members of The Teddy Edward Club at our meeting on the 3rd May. Little Ted loves stories, I read to him a lot (by the way, it's me, Teddy Edward) but this time it was to listen to a story Roz told about a family who were sitting down to an early breakfast as they were going out to hear Jesus who was visiting their town and he certainly knew how to tell a story. They wanted to get there early to get the best place to hear. Breakfast completed, the children got washed and dressed and they were ready to go when the baby was sick! "Oh no" said Mummy, more delay. By the time they eventually got to the town it was crowded and a group of big men barred their way and said there is no more room near Jesus and they were about to be turned away when Jesus, on hearing what had happened, said that the children should be brought to the front so that he could bless them and pray for them. The little family went home really happy and excited. This is an imaginary story but the event described actually happened as recorded in Matt. 19 v14. We had prayers too and always finish with the Lord's prayer as Jesus taught us.
Before it was time to play, Simon and Bobbie Bear prepared our songs, sometimes these are chosen by members and Twinkle, Twinkle is a firm favourite. Next was a really fast action song, Head, Shoulders, Knees and Toes etc., it gets faster and faster and at some point the children gave up and played with the toys but the adults were determined to keep up which required a good deal of concentration and arms flying about in all directions. Phew, how exhausting it can be at song time and that's just the adults! Time to calm and enjoy refreshments whilst the children played on the bikes.
Come to our next meeting on the 7th June, 13.30 hours at Pakefield Church, and hear more stories and also learn what else is on offer for children in our church.