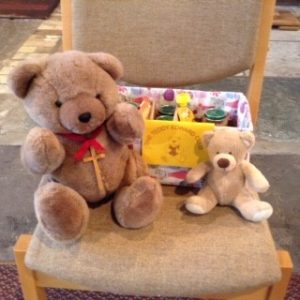 ……..is for Parents/Grandparents or carers with babies and toddlers run by members of our Mothers' Union Branch at Pakefield. We meet with Teddy Edward on the 1st Wednesday of the month in church, from 1.30-3.00pm. We have a story from the Bible, sing some songs, play with toys and whizz around on the trikes! We enjoy snacks and the adults have a cup of tea or coffee.
TEDDY EDWARD REPORT
(RUN BY MEMBERS OF THE MOTHERS' UNION)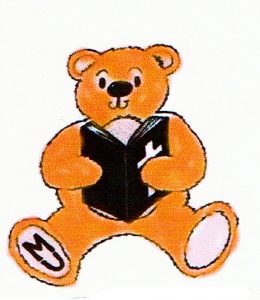 Teddy Edward is your reporter:
Where do we head when the weather is warm and sunny and especially when there
is no school? To the beach that's where and that's where Little Ted and I (that's
me Teddy Edward) headed because Little Ted wanted to build a really BIG castle
with the sand. However, we both forget to check the tide and hadn't noticed the
sea was creeping nearer and nearer. Suddenly, WHOSH, a big wave washed away
our lovely castle. We had to start again and, this time, we were going to make
sure we built it on firmer ground. Just like the foolish man who built his house
upon the sand, the rain came down in a big storm and the house upon the sand went
KERSPLAT! The wise man built his house upon a rock and when the storm and
rain came down, the house stood firm.
This story, or parable, was one that Jesus taught, and is also in the book which Roz
read to us and we looked at the pictures. Jesus was saying, look to trust and believe
in God so your house/faith stands firm.
Harry was one year old! We sang the birthday song of course. We think he is
getting used to our loud AMEN after prayers, although we have toned it down a bit
so he doesn't cry! The next song was, inevitably, 'The Wise man built his house
upon the sand', with actions! Incy Wincy Spider, another favourite. Time to race
around on the bikes, briefly stopping to fill up with biscuits and juice.
HOLIDAY TIME! All of us here at Teddy Edward Club wish you a very happy
and safe holiday and see you again in September. Don't forget, the first Wednesday
in the month, 13.30 hours, Pakefield Church.
Grab a Digest when you visit the church, there is so much going on for children of
all ages.