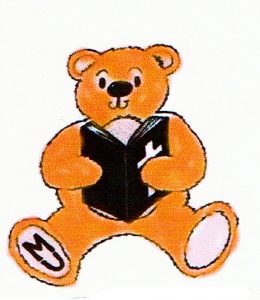 ………is for Parents/Grandparents or carers with babies and toddlers run by members of our Mothers' Union Branch at Pakefield. We meet with Teddy Edward on the 1st Wednesday of the month in church, from 1.30-3.00pm. We have a story from the Bible, sing some songs, play with toys and whizz around on the trikes! We enjoy snacks and the adults have a cup of tea or coffee.
March

20 News
TEDDY EDWARD REPORT
(RUN BY MEMBERS OF THE MOTHERS
As it was Mothering Sunday in March, Roz opened our meeting on the 4th with a prayer for all Mums! Roz continued by asking if anyone remembered being lost when, suddenly, Mum can't be seen anywhere, it's very scary. When reunited, Mum is a mixture of relief with lots of hugging to being a little bit cross that you had wandered off. This happened to Jesus when he was twelve years old, he was lost, or so his parents thought. They had all gone to the temple in Jerusalem from their home in Nazareth to celebrate the Passover. They stayed with their relatives for about a week and then started their journey home, both parents thinking that Jesus was with other members of their family but it wasn't long before they discovered he was definitely missing. They quickly returned and found Jesus still in the temple listening to the teachers. His worried parents explained how anxious they had been but Jesus was a bit puzzled that they hadn't realised where he was and asked them why they did you not know where to find him for, he said, I must be about my heavenly Father's business. Mary then remembered that the angel had said she was to have God's Son.
Then it was time to get out our musical instruments to bang on the drums, rattle the castanets and shake the bells, all in time to the tunes we chose, after which it was biscuit and play time.
SADLY, THIS WILL BE OUR LAST MEETING UNTIL FURTHER NOTICE DUE TO THE VIRUS EMERGENCY BUT WATCH THIS SPACE FOR HAPPIER NEWS WHICH WE HOPE WILL BE IN THE NOT TOO DISTANT FUTURE.