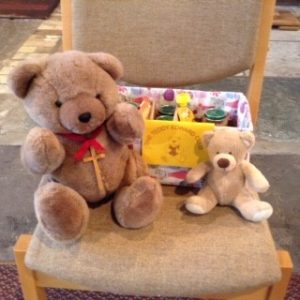 ……..is for Parents/Grandparents or carers with babies and toddlers run by members of our Mothers' Union Branch at Pakefield. We meet with Teddy Edward on the 1st Wednesday of the month in church, from 1.30-3.00pm. We have a story from the Bible, sing some songs, play with toys and whizz around on the trikes! We enjoy snacks and the adults have a cup of tea or coffee.
TEDDY EDWARD REPORT
(RUN BY MEMBERS OF THE MOTHERS' UNION)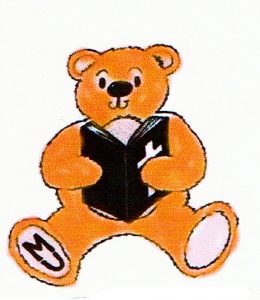 Teddy Edward is your reporter:
Anyone entering the church at our December meeting may have wondered why such gloomy faces. The table was set with Christmas goodies, the church was decorated, the big Christmas tree was alight, but no one had arrived for our party. Vaya and her mum were there and Vaya was thinking 'where are my friends'. We waited five minutes past the time to start, then ten minutes and, with a big sigh, Roz said 'let's begin'. Before she could go any further, the doors opened letting in a blast of cold air, followed by mums and children with red cheeks through hurrying and the icy conditions. Phew, this time a big sigh of relief and, when everyone had said hello and settled down, we had prayers.
Roz's story was the final part of the nativity. When Mary, who was exhausted from the long journey, and Joseph arrived in Bethlehem they looked for somewhere to stay but every available place to stay was taken. In desperation, they took up the offer of a kind innkeeper who let them stay in his stable and that's where Jesus was born, amongst the cattle and sheep. Their first visitors were shepherds following a star and as advised by an Angel.
Jesus wasn't the only one who had a birthday, Sheila was celebrating her special day too. We sung the Happy Birthday song.
Roz gave Simon a present because he helps us so much when we have our meeting and is always ready, with Bobby Bear, to lead us in singing our action songs each meeting, this month, favourite carols. Simon had chosen 'Away in a Manger', we all love that, and 'See Him Lying on a Bed of Straw'. Time for our tea party and playtime before saying our final goodbyes and wishing everyone one a very Happy Christmas.
We meet again on the third Wednesday in FEBRUARY.
HAPPY NEW YEAR EVERYONE!