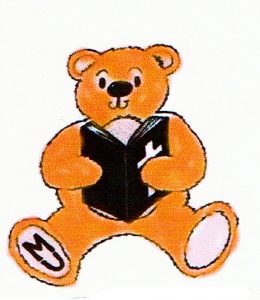 ……..is for Parents/Grandparents or carers with babies and toddlers run by members of our Mothers' Union Branch at Pakefield. We meet with Teddy Edward on the 1st Wednesday of the month in church, from 1.30-3.00pm. We have a story from the Bible, sing some songs, play with toys and whizz around on the trikes! We enjoy snacks and the adults have a cup of tea or coffee.
July 20 News
TEDDY EDWARD REPORT
(RUN BY MEMBERS OF THE MOTHERS
The Teddy Edward Club, formerly, The Pram Service, has been in existence for more than two decades but the history of TEDDY EDWARD BEAR, still present at our monthly meetings, goes back probably another two decades.
The Club for children 0-5 years has always been run by members of Pakefield Mothers' Union and, at the beginning, involved our former member, Shirley Young, aided by Pat Vellacott, sadly, Shirley is no longer with us.
Shirley became a young widow left with two young children to support and consequently moved to another county to take up a position as Matron at a boarding school. Previously, Shirley had been given a teddy bear and this went with her and was used as a comfort for children who were homesick or ill.
Back in Suffolk and the then Pram Service; Teddy again proved his usefulness at story time and was available for babies/toddlers to cuddle.
When Jean Lockwood took on the leadership, she renamed the Club and it became The Teddy Edward Club as we know it to this day and is now in the hands of Roz and helpers. There has to be mention of the other bears who are present at every meeting, that is, Bobbie Bear, who helps Simon with the music, and Little Bear who originally came all the way from Australia as a gift to Roz from her daughter.
We will all meet again as soon as the current regulations allow.