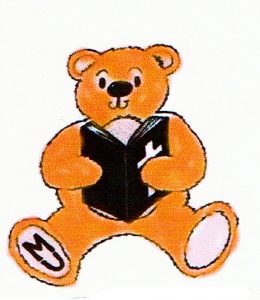 ………is for Parents/Grandparents or carers with babies and toddlers run by members of our Mothers' Union Branch at Pakefield. We meet with Teddy Edward on the 1st Wednesday of the month in church, from 1.30-3.00pm. We have a story from the Bible, sing some songs, play with toys and whizz around on the trikes! We enjoy snacks and the adults have a cup of tea or coffee.
February

20 News
TEDDY EDWARD REPORT
(RUN BY MEMBERS OF THE MOTHERS
The Teddy Edward Club met on the 5th February and I'm here – that's me, Teddy Edward – to tell you all about it.
Did you notice the snowdrops in the grass on arrival at the church? Snowdrops are also known as candlemas bells because they bloom at this time when candles are lit in churches to symbolise Jesus as 'the light of the world'. There were many candles lit in the church on Candlemas Sunday and everyone got a candle to hold. We had a candle at our meeting which was high in the pulpit.
Roz began her story after some short prayers of thanks for all that we have, it was about Joseph and Mary who took Jesus to the temple when he was six weeks old to thank God for his birth. They met a really old man called Simeon who had been promised by God that he would meet a special baby, a new king, and he realised he had found him when he held the baby Jesus. Also in the temple was Anna she too had been waiting for this special child who, she said, would be the light of the world.
Katie had a birthday this month, she will be 4, so she got to choose the action songs which were 'this little light of mine' and, always a favourite, 'twinkle, twinkle little star' followed by the birthday song. Roz gave her a birthday card and a battery candle to take home but before that there were refreshments with extra chocolate biscuits for birthday girl.
Did you know any MUMS, DADS AND GRANDPARENTS reading this that there are lots of other activities for children in the church and church hall as well as our TEC? If you'd like to know more please ring our Children and Families Co-ordinator – Katey Mills – there's a lot going on! Katey generally puts in an appearance at our meetings and you would be welcome to come and have refreshments and a chat with her. You can contact her on 07834910714.
Please come to our next meeting on the 7th March when Roz will be on hand with another story and lots more and there's generally chocolate biscuits with our refreshments even if we don't have a birthday to celebrate!! Love Teddy Edward.