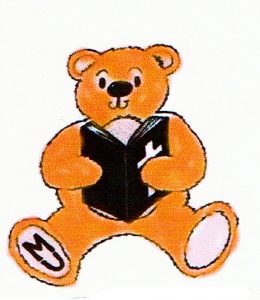 ………is for Parents/Grandparents or carers with babies and toddlers run by members of our Mothers' Union Branch at Pakefield. We meet with Teddy Edward on the 1st Wednesday of the month in church, from 1.30-3.00pm. We have a story from the Bible, sing some songs, play with toys and whizz around on the trikes! We enjoy snacks and the adults have a cup of tea or coffee.
December 19 News
TEDDY EDWARD REPORT
(RUN BY MEMBERS OF THE MOTHERS
It was a very exciting time at our special party-time meeting, the table was laid with all kinds of goodies for later and we had a giant elf helping Bobbie Bear which turned out to be Simon. Even later, a small Christmas tree walked into the church, underneath which was Tilly with just her tiny face peeping out through the 'branches'
We settled down and were quiet for prayers but not for long as our AAAAHHHHMMMEEENNN at the end is very loud! When it was quiet again, it was time for a story following on from last week when we left Mary and Joseph having to plan a long journey to register for a census. Sheila had brought along the knitted figures and, once again, it was Katie's job to help illustrate the story with them and Sydney whizzed round the church holding the sparkly star aloft. The scene was set; this story happened a very long time ago and in those days there was no transport like buses or cars available and probably Mary rode on a donkey as she was very near to giving birth to Jesus. When they arrived in Bethlehem there were many people and therefore no place where Mary and Joseph could stay. Thankfully, a kindly Innkeeper said they could stay in his stable, this is where he kept all his cattle and sheep, and in this humble place Jesus was born. Mary wrapped him up in some warm clothes and laid him in a manger, which is a feeding trough for the animals.
Meanwhile, on a hill far away, an angel appeared to some shepherds guarding their sheep and told them to follow the star to find this special baby who was God's gift to the world. At which point, Sheila placed our figure of baby Jesus in the manger to complete our little scene. Talking of Sheila, it was her birthday this month so we sang our happy birthday song to her and, of course, to Jesus.
There were to be more visitors to see the holy child….but that is another story for next time we meet on the 8th January.
Before our party, we sang Away in a Manger, Jiggle Bells and Twinkle, Twinkle Little Star and after played with the bikes and toys until it was time to go