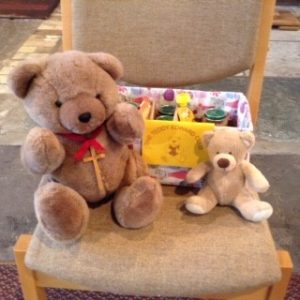 ……..is for Parents/Grandparents or carers with babies and toddlers run by members of our Mothers' Union Branch at Pakefield. We meet with Teddy Edward on the 1st Wednesday of the month in church, from 1.30-3.00pm. We have a story from the Bible, sing some songs, play with toys and whizz around on the trikes! We enjoy snacks and the adults have a cup of tea or coffee.
TEDDY EDWARD REPORT
(RUN BY MEMBERS OF THE MOTHERS
Hello everyone, Teddy Edward here:
More excitement at our meeting on the 3rd November; we had a new member – Ruby – to join Vaya and Madelyn, Fleur couldn't make it as her mum and dad were working. First, a prayer for being together – that's always a blessing! For Ruby's sake, Roz explained who I am – oh, that's me. Teddy Edward – and Little Ted who also lives with Roz and comes from Australia!
Little Ted was telling me that one day last week there was a knock on the door and it was the postman with a HUGE parcel from Australia and he wanted to open it at once. I said, not yet, we have to wait for Christmas. This reminded me of a story about waiting, here it is.
Long, long ago and far away there lived in Nazareth a young girl, called Mary, who loved God and was soon to be married to Joseph. One day, she was making cakes for the forthcoming wedding when, without any warning, the Angel Gabriel appeared telling her not to be frightened but that he has brought a message of great importance from God which was that she was going to have a baby boy and that she should call him Jesus. This baby would grow up to do wonderful things and she wasn't to worry about anything as God would take care of everything. What made this story special was that Sheila had found our knitted figures of the nativity scene and we saw Mary and the Angel as the story unfolded.
Would you like to hear the next bit of the story? Then come to our next meeting which is on the 6th December, in church, 1.30 pm.
Finally, before refreshments and playtime, we had our songs with our musical instruments. The favourites – Twinkle, Twinkle and Incy, Wincy Spider, then something new for TEC, The Grand Old Duke of York and Five little Monkeys jumping on the bed!!
Come and join our Sunday Club in the hall and then in church for children aged 3 and above, 10.30 – 11.45 am, or there's a Parent and Toddler Group in the church hall on Mondays 1.00 – 2.30 pm. For further information, ring our Children and Family Co-odinator, Katey Mills on 07834910714.