There was a great attendance of the All Age Worship, Parade and Remembrance Service on Sunday 10th November 19. The Church was decorated in poppies and looked lovely!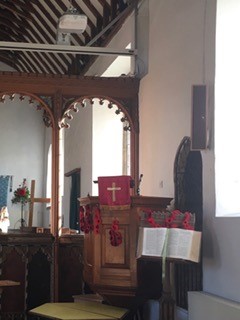 The next day was Armistice Day and a Service was held around the Memorial . There was an amazing appearance by a couple dressed in WW1 attire on horses who came to pay their respects .
Lending authenticity to the service around the cenotaph on Armistice Day was Bilbo, the sturdier horse, which would have been ridden by an officer in WW1 or hauled artillery pieces. Prince would probably have been coupled up with another horse to pull an ambulance. Woman in WW1 would have trained the horses.
Thank you to all those people who contributed to the annual Poppy Appeal in Pakefield Church. This year, a collection of